Captain Mama Reviews & Awards
Reviewed by School Library Journal & Midwest Book Review
"Marco's second grade class goes on an Air Force base field trip. His mom is the navigator on an aerial refueling tanker, and the kids are excited about touring the plane and meeting the crew. In an easygoing first-person narrative, Marco describes the adventure. Everything from the refueling process to the manual landing gear crank is explained to the eager students. The smiling, accommodating crew members outline their responsibilities and the importance of working as a team…Tiscareño-Sato is a Mexican-American military veteran/aviator, and in this continuation of her bilingual series "Captain Mama," the author affords young readers the opportunity to observe a coed, multiethnic crew performing their vital tasks. In addition, the final six pages include an English/Spanish glossary, a list of educational resources and their respective links, and an art/engineering project. VERDICT: An accessible and positive portrayal of the mothers and people of color who serve proudly in the military; a good purchase for bilingual collections."
Mary Margaret Mercado, Pima County Public Library, Tucson, AZ
"From Gracefully Global Group's bilingual Captain Mama series, Captain Mama's Surprise/ La Sorpresa de Capitan Mama is an exciting new Spanish/English children's title written by former Air Force officer and aviator Graciela Tiscareño-Sato and illustrated by the daughter of an Air Force veteran, Linda Lens. Including a helpful Spanish/ English glossary of terms, list of educational resources, and instructions for an exciting art/engineering STEM project for kids age 6 and up, Captain Mama's Surprise is from an award winning bilingual series about mothers and other women who proudly serve in the U. S. Volunteer military air force. Each page of Captain Mama's Surprise is written in English and Spanish, with colored illustrations of the characters, a second grade class with their teacher and the airplane crew touring a refueling tanker plane. After a thorough and educational tour of the aircraft, Captain Vicky Castro and her daughter, Mimi, surprise her son Marco and classmates with a wonderful adventure: a ride in the plane! Captain Mama's Surprise is an exciting title for children age 6 and up, with many positive messages of empowerment for women, those of Hispanic and multi-cultural backgrounds, and all."
James A. Cox, Editor-in-Chief and Diane Donovan, Editor
"I don't believe there are any other children's books that feature minorities – specifically Latinas – in military service, which makes this series so valuable. I love how the author not only describes the duties of the individual officers, but she also includes an activity at the back of the book to extend the learning after the reading is done. In this case, there is an art project involving the KC-135. And yes, it comes with full text in English AND Spanish! The illustrations by Linda Lens, are simply fabulous and help the reader to experience the same things that young Marco and his 2nd grade class do in the book. The details of the airplane especially help to make the story come alive for the reader. It's a wonderful tribute to the Latinas who have and currently serve our country."
Monica Olivera, Creator, MommyMaestra.com
"Positive Latina & Latino role models based on real life characters are scarce in storybooks for children (as well as in all types of U.S. entertainment media.) Graciela Tiscareño-Sato's books, including her second bilingual picture book Captain Mama's Surprise, are superb examples of what can and should be done to educate, inform and entertain children about the contributions of Hispanics in society, including in the military. This book is a bouquet of flowers in what is otherwise a desert of bilingual Latino-themed children's books that feature Hispanic adults and children as protagonists. This bouquet is the story of children and adults interacting and learning in a distinct setting: a field trip visit to a KC-135 refueling tanker. A multi-ethnic crew serve as the guides that explain how the airplane works. A Latina is one of those crew members, and she happens to be the mother of Marco, the main narrator of the story.
Being on an airplane, learning how it works, and then flying opens senses to unique experiences that can enhance a child's life. That is sure to be how Marco and his friends feel in the story, and how children reading this book might feel and also anticipate when they have an opportunity to fly somewhere.
I'm looking forward to the next in this series of outstanding and award-winning bilingual books from Graciela Tiscareño-Sato, a real life KC-135 aviator, veteran, excellent storyteller and Latina role-model."
Federico Subervi, Ph.D., Professor of Communications, Texas State University – San Marcos
"This bookshelf gem beautifully weaves adventure and storytelling, taking us onboard for an exciting insider's view of an aerial fueling plane. Narrated by a young boy, we witness a powerful moment when the child explores his Captain mother's intriguing workplace. The gender empowerment elements were equally as inspirational to me as to my children."
Angelica Perez-Litwin, Ph.D., Founder, Latinas Think Big and CEO, Think Big Society, LLC

"Take your kid to work day! It's always fun when kids go to Mom's job, but it's even more fun when Mamá is a plane navigator on a refueling jet!…A feature worth noting of this series is the portrayal of strong, dedicated women in the military, especially Latina women. This Mamá is a navigator, a Latina and there are many others like her and many more to come. The Latina Book Club thanks all the women and men in the military for their service, and thanks Graciela — a White House named Champion of Change — for this delightful and inspiring series for kids of all ages."
The Latina Book Club

"My 7 year old daughter really enjoyed this book. At first, she was a little confused by it's bilingual page layout (it's written in both English and Spanish), but once she realized she was meant to read the part that made sense to her, she really flew through the book. She read it all in one sitting, pointing out all of the neat aspects she enjoyed…Above all, she thought the surprise at the end was the most fun and wished she could go on a field trip like this some day. This was a fun read, as well as educational, and entertaining. The illustrations and artwork were beautiful (as well as technically drawn) and we both recommend it for children in the second grade bracket. Very cute!"
Carissa Andrews

"Captain's Mama Surprise is a wonderful sequel to Good Night Captain Mama. Graciela has crafted a story that blends military aviation, engineering, and career opportunities while on a classroom field trip. As a science teacher whose students are dependents of US Navy personnel, I greatly appreciate how this book honors the work of military parents who sacrifice time away from their families… More importantly, Captain Mama inspires students of different ethnicities and genders as well as English language learners that they can pursue careers in aviation. I look forward to sharing this book with my students and having them create their own stories with their parents."
Karla Orosco, Science Teacher at Admiral Akers Elementary, Naval Air Station Lemoore in Lemoore CA

"Esta maravilla de historia que combina la aventura y la narración, nos lleva a bordo de una manera muy visual, de un avión tanquero. Siendo narrado por un niño joven, somos testigos del momento especial cuando el niño explora el lugar de empleo de su Capitán Mamá. La mezcla de elementos de género nos ha dado inspiración a mí y a mis hijos."
Angelica Perez-Litwin, Ph.D., Fundadora, Latinas Think Big y CEO, Think Big Society, LLC

"Inspired by a conversation with her own child, Graciela's takes her experience as a decorated Air Force veteran and mother to create this bilingual children's book. The story captures a special moment as Captain Mama explains to her son, Marco about all the different colorful patches. The patches serve as way for Captain Mama to share what it means to serve in the U.S. Air Force. Good Night Captain Mama is a great story to read with your child as it reminds parents and children alike that parents are not only mamas and papas but also are heroes in their children's eyes."
Linda Castillo review in the REFORMA newsletter

"En esta segunda entrega de la serie Capitán Mamá, Marco y sus compañeros de escuela abordarán un avión cisterna de repostaje modelo KC-135. Según vaya transcurriendo el día, los niños aprenderán todo sobre el piloteaje y tripulación de la aeronave culminando en una grata sorpresa. Las coloridas y nítidas ilustraciones le permitirán a los lectores seguir la historia como si estuvieran en el sitio. La Sorpresa de Capitán Mamá, al igual que su predecesor Buenas Noches Capitán Mamá, es el cuento idóneo para compartir con nuestros hijos porque les enseña que sus madres son capaces de ser líderes en campos no tradicionalmente pensados para mujeres. De este modo el cuento también imparte un mensaje de igualdad de facultades de género."
Bloguera Victoria Cepeda, LatinasAllied.com
"In a quiet voice Graciela in her book Good Night Captain Mama aids in opening a door rife with rusty hinges and cobwebs. Not as much a story as a need. Helping young children deal with the separation resulting from military service and deployment is a subject with little in print that helps those that suffer most. Graciela's conversation in simple words with her son speaks volumes on a childs level, allowing him to deal with the pain these things cause.
Well done, much needed, a book military families should all have for their children, male or female."
Review from Military Writers Society of America
"No creo que haya ningún otro libro para niños que destaque a las minorías – específicamente las Latinas – dentro del servicio militar, lo cual hace tan valiosa esta serie. Adoro como la autora no solamente describe los deberes de cada oficial, sino que también incluye una actividad en la parte de atrás del libro para extender el aprendizaje después de que se haya terminado la lectura. Las ilustraciones de Linda Lens son simplemente fabulosas y ayudan al lector a experimentar las mismas cosas que el joven Marco y sus amigos de segundo grado, han podido vivir con este libro. Es un tributo lindo a las Latinas que han y que actualmente están sirviendo a nuestro país."
Monica Olivera, Creadora de MommyMaestra.com
"We love how this book introduces children to the life of a military Latina mamá, a role often not associated with minorities especially not women. Graciela Tiscareno-Sato is a trailblazer when it comes to being a voice for Latinas in the military… This bilingual children's book is a perfect addition for any family or home library."
Reviewed by Frances Evans, Discovering The World Through My Son's Eyes blog
"The bilingual book, which has been impeccably translated to Spanish, tells the story of a little boy named Marcos who is curious about seeing his mom in her uniform and decides to ask her a bunch of questions about why she wears it and the meaning of all the different patches she has. His mom goes through each one explaining their significance and even gives him a special one to hold onto as she leaves on a mission. I think this book is perfect not only for kids' with family members in the military, but also for parents who want to teach their kids about those in uniform and the need to respect them and honor them for all they do."
Roxana Soto, reviewed for Spanglish Baby
"Captain Mama's Surprise/La Sorpresa de Capitán Mamá invites the reader into the world of Air Force aviation. Children and adults alike learn how crew members operate the KC-135 aircraft. Graciela Tiscareño-Sato writes this story in such an entertaining, exciting, and fun way that I wanted to be a KC-135 pilot after reading the book!"
Marcy Voss, Boerne ISD Special Programs Coordinator
Military Writers Society of America Gold Medal
In 2019, Captain Mama's Surprise/La Sorpresa de Capitán Mamá was honored by the Military Writers Society of America with a Gold Medal in the Children's Book category. News release is here.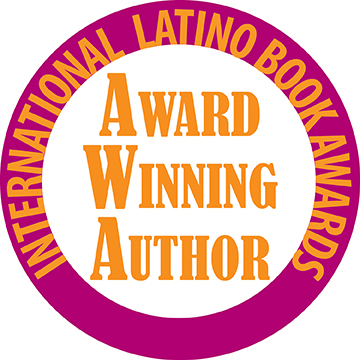 International Latino Book Awards
Good Night Captain Mama was honored in the "Best Educational Children's Book – Bilingual" category at the International Latino Books Awards held at the American Library Association convention. Two years later, Captain Mama's Surprise took top honors at this same event – 1st Place in the "Most Inspirational Children's Picture Book – Bilingual" category.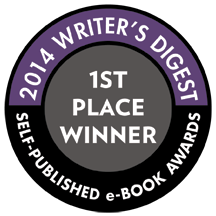 2014 Writer's Digest 1st Place Winner
First Place Prize, Writer's Digest Magazine Self-Published e-Book Awards, Children's Picture Books category. 
2014 Moonbeam Children's Book Awards Silver Medal
Silver Medal at the 2014 Moonbeam Children's Book Awards (Independent Publishing Awards) in the Languages/Cultural category.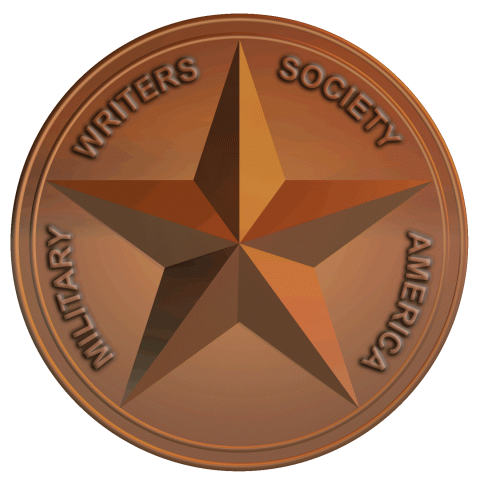 Military Writers Society of America Bronze Medal
Bronze Medal at the Military Writers Society of America Book Awards, "Children Ages 12 and Under" category.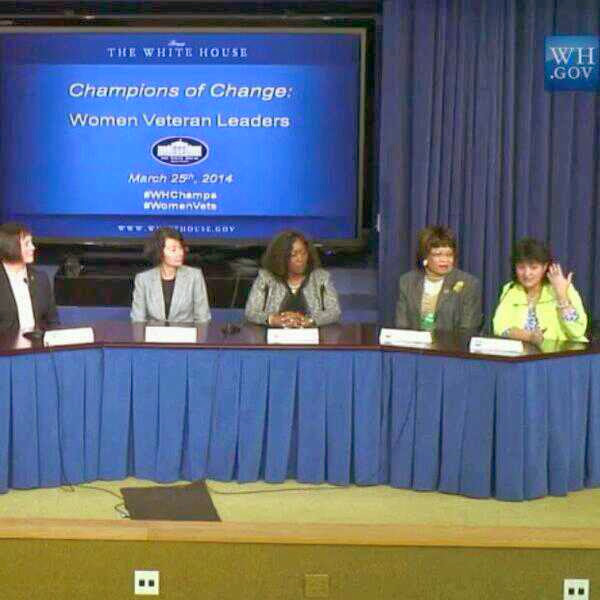 Woman Veteran Leader Champion of Change
OBAMA WHITE HOUSE
Graciela Tiscareno-Sato was honored by the Obama White House for her leadership as a "Woman Veteran Leader Champion of Change" for her work as Founder and CEO of the award-winning, multicultural, educational publishing company Gracefully Global Group LLC and for her mission to raise educational expectations of Latino students and voices of veterans. Details are here. Her White House blog post on that subject is here.
Congressional Tribute
FLOOR OF THE HOUSE OF REPRESENTATIVES
The day after the Champion of Change Ceremony at the White House, Graciela's service and business leadership was honored in a moving tribute on the Floor of the House of Representatives by her Congressman. Here's the video of the Congressman's speech.
The Congressman's tribute was entered permanently into the Congressional Record as seen here in TEXT version and as a PDF document.
National Business Women's Week Award
BUSINESS AND PROFESSIONAL WOMEN'S FOUNDATION
In November of 2014, Ms. Tiscareño-Sato was honored by the Business and Professional Women's Foundation with an National Business Women's Week award. The ceremony was part of the Women Veterans Career Development Forum that took place at the Women in Military Service for America Memorial and included a keynote speech by First Lady Michelle Obama. The "Personal Branding for Military Veterans" panel on which Graciela participated may be on YouTube.