Downloads for Teachers and Parents

Author Biography
The Captain Mama series
was inspired by a conversation between the author and her son, the night before a Veterans Day event at his preschool. As she gathered her uniform, hat, scarf, patches and boots, her son spotted her in her "costume" on his way to bed. His curiosity and the questions he asked as he yanked each patch off the flight suit led Graciela to write the first draft of the manuscript (and its marketing plan) that same long night.
[See video of the bedtime conversation on the home page.]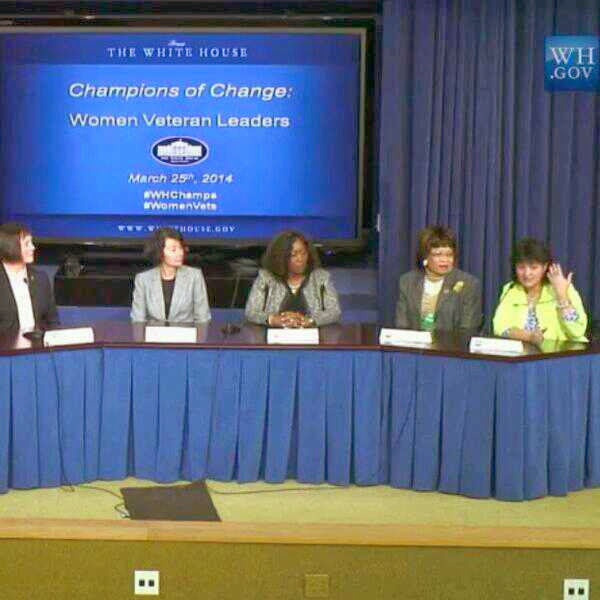 Ms. Tiscareño-Sato was honored by The White House as a Woman Military Veteran Leader Champion of Change in March 2014. Details are here. The recording of the White House event is here. Her Congressman gave a moving tribute to her life and work here.
Graciela Tiscareño-Sato is a graduate of the University of California at Berkeley, School of Environmental Design, where she earned a degree in Environmental Design/Architecture while completing the Aerospace Studies program as an AFROTC (Air Force Reserve Officer Training Program) scholarship cadet. She was commissioned as a Distinguish Graduate and second lieutenant atop the Campanile on the Berkeley campus.
After Berkeley, she joined the active duty Air Force and completed Undergraduate Navigator Training at Mather Air Force Base (AFB) in Sacramento. She graduated in the top 15% of her class of 25 students as the only woman in the class. She then trained in the KC-135R refueling tanker at Castle AFB in California before reporting into the 43rd Air
Refueling Squadron at Fairchild AFB in Spokane, Washington.
Her first deplo
yment was to Riyadh, Saudi Arabia. On that trip, she was a me
mbe
r of one of the
first few aircrews to patrol and enforce the Southern NO FL
Y Zone in Southern Iraq after the conclusion of Operation Desert Storm. Flying tw
o or three sorties a day over and near the city of Baghdad to prevent Saddam Hussein's air forces from targeting Iraqi civilians earned her crew the prestigious Air Medal. This medal is awarded for "Meritorious achievement while participating in aerial flight; Per twenty-five (25) operational flights during which exposure to enemy fire is probable and expected." In other words, combat sorties. This happened 10 months BEFORE Congress lifted the Combat Exclusion Law that barred women from being assigned to combat duties. During her keynote presentations, Graciela tells the story of how this Air Medal almost didn't happen for her crew because of this technicality.

During her military career, Graciela lived on or visited four continents and flew for thousands of hours. As an instructor, she taught GPS systems, navigation systems and more in the classroom and in the cockpit. Her favorite rendezvous for refueling was with the SR-71 Blackbird as it came out of its high-altitude missions over the Earth at supersonic speeds. She was one of very few women that served on the NATO Battlestaff in Vicenza, Italy during the conflict in Bosnia-Herzegovina. Later she led a multi-service group of communications technicians at the U.S. Embassy in Quito, Ecuador in counter-narcotics operations.
Her last mission abroad was planning and leading a two-week CAPSTONE mission to Asia Pacific theater to introduce newly – minted generals to their new posts in Malaysia, Korea, Singapore, Hawaii, Okinawa, Japan and more. She spent almost ten years on active duty as a navigator and instructor, eventually also becoming a wing contingency planning officer. During her active duty service, she earned a Master degree in International Management, with an emphasis in Global Marketing, from Whitworth University in Washington. She speaks English and Spanish fluently.
Graciela is the Founder of niche publishing, marketing and communications firm, Gracefully Global Group, LLC. She is the author of the award-winning entrepreneurship book Latinnovating: Green American Jobs and the Latinos Creating Them, which highlights Hispanic entrepreneurs innovating in the green economy. In between military service and entrepreneurship, she spent nine years in global marketing roles at Siemens, where she applied her military career lessons in a global, multicultural, corporate environment. Her thought leadership pieces have published in the U.S. and Europe including American Careers, Huffington Post, Fox News, Hispanic MBA, Communications News and many other publications.
Graciela is a sought-after speaker on entrepreneurship, innovation, leadership, personal branding and the "STEM of Aviation." She speaks to a wide variety of audiences ranging from young children to corporate professionals and university students. As a key team member of the Silicon Valley Latino Leadership Summit held annually at Stanford University, Graciela actively mentors students needing education and career roadmaps. LATINAStyle Magazine named her "Entrepreneur of the Year" in Washington D.C. and the Business and Professional Womens Foundation in D.C. honored her in Virginia with a National Business Women's Week Award.
Graciela is also the author of an Amazon bestselling bilingual children's book titled Good Night Captain Mama/Buenas Noches Capitán Mamá, the first bilingual children's book about why mommies serve in the military [ISBN: 978-0-9834760-3-0.] This ground-breaking book was honored at the American Library Association National Convention (2014 International Latino Book Awards) in the category of "Best Educational Children's Book - Bilingual." Since then, it's won awards in competitions among military writers, independent publishers and the prestigious Writers Digest Magazine (1st Place, Children's Picture Book.) Captain Mama and her children will star in a bilingual aviation travel adventure series in the years to come. The second award-winning book in the series (Captain Mama's Surprise) published in summer 2016, was reviewed in School Library Journal and was featured in USA Today. Ms.
Tiscareño-Sato is now writing the third book in the Captain Mama series.
Graciela recently began to offer book-birthing services to aspiring authors of either non-fiction books for young adults or children's literature. She lives in the San Francisco Bay Area with her family and may be reached via the contact form here.